This is the list from the website:
Only country with more than 1000 islands can offer top destinations from wide-ranging of naturist beaches to scuba diving and snorkeling, intact nature, Robinson Crusoe islands, the best islands for all kind of water sports, island with the best local food and autochthonous wines, the most fashionable and elegant island, the island with the best dance parties. You can choose to sleep in into an elegant boutique hotel, bohemian-style villas, fisherman's cottage or perhaps to one of lighthouse.
1. Vis island – best local food and wines
(c) tportal.hr


Once military base of the former Yugoslav army until 1989, Vis island has become one of the most attractive island. In addition to its well-preserved natural beauty, rocky coast rich with coves, caves and several sandy beaches, in both Vis small town , Vis and Komiza you can benefit from excellent food and wines (white wine Vugava and red one Plavac). In Vis town I recommend Villa Kaliopa restaurant situated in a beautiful ambient of the 16th century Garibaldi Palace with palm trees garden, the most romantic place in Vis town, serving fresh fish meals.
2. Hvar – Croatian St.Tropez


(c) villaadriella.com
Welcome to the island which declares of being the sunniest Dalmatian island often called Croatian Madeira. Nature has donated it 2715 sunny hours per year. The scents of rosemary and lavender, a pine wooded shore and an exceptional cultural richness divulge why Hvar(Hvar town) is after Dubrovnik a top destination.
Medieval Hvar is a small town that lies between protective pine-covered slopes and the azure Adriatic Sea. The main street is the wide promenade that runs along the harbor, where you will find the most important sights. Some hotels are just along this stretch while others are north-west of the town centre. The most popular beaches are on the Paklina islands connected with regular taxi boats leaving in front of Arsenal /built in 1611/ to the islands Jerolim and Stipanska, where you will find the most popular regular and nudist beaches.
Explore the chic korzo (stroll) that rules Hvar town at night. Right on the harbor, Carpe Diem cafe/club is situated and its after beach parties are famous. Summer, beautiful people, few cocktails and soon you'll find yourself doing something tomorrow you'll rather forget. It is a place to see and to be seen.
3. Kornati island – best for sailing and cruising

(c) onklivan.hr


It's sufficient to repeat the George Bernard Show's words about these islands "On the last day of the Creation, God desired to crown His work and thus created the Kornati Islands out of tears, stars and breath" to understand the beauty of 147 mostly unpopulated islands, islets and reefs. The islands running from north-west to south-east forming four chains. The first two are very close to the mainland while the other two facing the open sea makes part of Kornati National Park. See the map of the park.
Where to stay? The fact that these is no fresh water on these islands, they are mostly without any kind of vegetation, some of them covered with grass. Inhabitants of the small place Murter on the same name island, use these islands for their shepherds building stone cottages as a seasonal accommodation, today several of them transformed in tourist houses, with water from a well, low-voltage solar electricity, and an outdoor shower and barbecue. If you like this type of Robinson Crusoe accommodations contact the LORI tourist agency or National Park.
How to get there? There is no ferry connection to Kornati Islands. You can visit these island booking on of organized excursions from Zadar, Sibenik Split and other costal cities but the best way is sailing by chartering the yachts or if you like you can buy one of the famous Gullet wooden boats to sail the whole Croatian coast. The excellent way to invest your money and to feel all benefit of sailing on your own, when and where you decide!
4. Brač (Bol) – best for water sports

(c) bolcroatia.com

The channel between Hvar and Brac island is famous for maestral wind blowing usually in direction of Bol town.(Read more about winds along the Croatian coast). Maestral is a typical Adriatic summer northwestern wind and one of those winds that are characteristic for beautiful and stable weather. Bol is one of internationally famous windsurfers' top destinations and generally the most beautiful place to go windsurfing on the Adriatic.
In a channel between the islands of Hvar and Brac blows maestral that is stronger on this side of the coast than anywhere else, and that appears every afternoon almost without exception. easy wind levante blows during the morning that is ideal for learning and practice so you can find many windsurfing schools on this part of the coast.Nautic center Bol is situated in vicinity of famous Golden Cape (Zlatni Rat) beach and offers water skiing and wakeboarding, for both beginners and professionals. Additionally, they offer water sports fans extraordinary amusement programs with water equipment for children and adults as: tube, bananas, fly fish, parasailing, jet ski.
5. Mljet island - best for pristine nature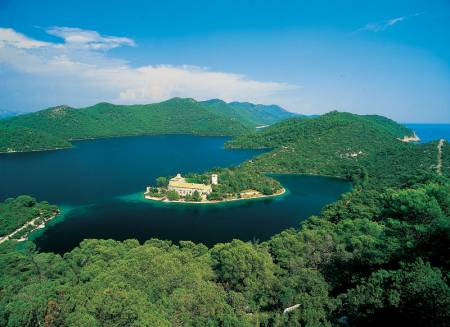 (c) korcula-kroatien.com
Mljet island has remained for centuries rather unknown island and rarely visited by tourist.With an average width of 3 km is 37 km long this island of great diversity and contrast, and "Mljet" National Park covers his northwestern part with an area of 5.375 ha of protected land and surrounding sea.
This area was proclaimed as national park 11 November 1960 and represents the first institutionalized attempt to protect an original ecosystem in the Adriatic. This island is one of the top destinations with pristine and outstanding nature beauties.
The world famous lakes of Mljet consist of the Great Lake, covering an area of 145 ha, with a maximum depth of 46 m. The Small Lake has an area of 24 ha and a maximum depth of 29 m. The natural secrets of both lakes have attracted many scientists over the years, as well as other nature lovers from a wide range of professions and personal interests. The rich vegetation of the island, especially in the area of the national Park, explains why Mljet is also known as a Green Island.
Visit Saplunara sandy beach on the island Mljet is one of the most beautiful sandy beaches in Southern Dalmatia. Stay in Villa Mirosa near Saplunara a peaceful village on the south coast of the l island of Mljet. It is in the midst of pine woods on the coast. An ideal spot for nature lovers and those who love to swim in crystal clear waters.
How to reach Mljet island?
There is ferry that goes from Dubrovnik every day and takes you to Sobra. There is fast catamaran service from Dubrovnik for passengers only, which takes less then one hour.
There is a ferry service from Rijeka which calls at the main cities and islands, stopping of at Sobra and then proceeding to Dubrovnik.
There is also a ferry (SEM Marine) which sails daily from Trstenik (the Pelješac peninsula) to Polace (Mljet)
6. Nudist paradise – Island Rab
(c) trend.seebiz.eu

Since 1936 when local authorities have permitted King Edward VIII and Mrs Simpson to swim naked at Kandarola beach, Rab island has become one of the most popular destinations for naturist lovers. Kandalora beach (sometimes reffered as English Beach or Engleska Plaza) popular and well appointed naturist beach with a restaurant and sports facilities, is located on the southern side of the Frkanj peninsula (part of larger Kalifront peninsula), which is overlooking Palit, modern suburb of the town of Rab and can be reached by taxi-boats leaving from Palit's promenade.
Rab Town the capital of the island, is a charming town of medieval stone buildings, grouped on a fortified peninsular, lined with four elegant Romanesque church bell-towers.
Lopar is the northernmost place on the island and is the furthermost from the town of Rab (13 km).There are 22 sandy beaches bordered by pine groves and the shallow sea makes them perfect for small children and specially suitable for snorkeling and beginners diving activities. Sahara is one of the most beautiful beaches in general, not only among nude ones. There is a beautiful sand, shallow see and nice rocks on the sides.
7. The best party beach - Zrće beach, Pag island

(c) slobodnadalmacija.hr


Zrće beach, Novalja on the island of Pag is a popular summer resort which hosts probably the only beach in Croatia with Ibiza sense. Zrce can be reached form Novalja by car or you can take a small shuttle bus operating during the summer.
Zrce is a long, stretched, white pebbled beach with crystal clear sea. The beach has numerous facilities and three popular open-air clubs offering entertainment until "small" hours. Aquarius and Papaya are outfits from Zagreb's popular clubs, and there is also beach-bar Kalypso.
Stay at Tone & Tonica Apartments, modern apartments located in Novalja on the north west coast of the island of Pag.
8. The best for solitude vacations – Lighthouse on the island Palagruža
(c) unc.edu

If you are ready for something completely different, take the opportunity to run away from stressful everyday life in oasis of the peace and quietness where it seams like the time has stopped. The lighthouse was built in 1875 on the island bearing the same name and located in the middle of the Adriatic Sea, between the Italian and Croatian coast.
It is the most remote Croatian island and lighthouse. It is situated 68 M to the south of the town of Split and 26 M to the south of the Island of Lastovo. Palagruza and the small islands around it are not inhabited. The island is 1400 m long and 300 m wide, and is covered with Mediterranean vegetation. The lighthouse is located 90 m above sea level in central part of the island. The large stone building has two 4-bed apartments
There are two well-kept trails on Palagruza. One of them leads to Stara Vlaka, a pebble bay on the northern side of the island, while the other trail leads to the southern side of Velika Palagruza to Veli Zal so-called "Juzno zlato", one of the most beautiful beaches on the Adriatic. These pebble beaches are ideal for small children due to shallow waters and fine pebbles. but I honestly don't recommend to bring children with you if they are not over 12 years old.
The complete isolation of this remote island makes Palagruza one of unique European tourist top destinations. There is an archeological site on the island of Palagruza Velika. On the island there is a famous "Southern golden beach", one of the most beautiful beaches in the Adriatic.
Stay at Palagruža lighthouse, in one of two 4-bedroom apartments. minimum stay is one week. Bring one week's food supply because there are no deliveries here, though you can often buy fresh fish from the lighthouse keeper. Bring a group of friends on this island and find out why this one is the best of all 10 Croatia's top destinations.
9. The best sailing school - Island Murter

(c) burzanautike.com


One of the most exciting way to spent your holidays on the Adriatic is certainly taking part in sailing schools to learn one of the most ancient human sills – sailing. This 7 days course teaches you basic skills essential in order to begin sailing, like handling ropes and deck equipment, basic navigating maneuvers, shortening sails, steering, avoiding collisions on the sea and many more. Course take place on island Murter at Jezera, a harbor in Jezera bay, on the north-eastern shores of the island of Murter which is connected to the mainland by bridge at Tisno.
Thanks to its favorable geographic position, a nautical center and marina with 220 berths have been built in Jezera is a great starting point for exploring Kornati National Park.
10. The best one day tour - island Lopud

(c) lopud.nl


Would you like to make a peaceful escape from touristy Dubrovnik? Island Lopud is one of the top destinations, situated 7 nm northwest of Dubrovnik. It makes a part of the Elafiti islands. The island can be reached by a boat from the new Dubrovnik's harbour Gruz during high season (June to August). Off season ferries operate only in the afternoon. Lopud is a car free island. The beautiful Sunj beach is only 20 minutes walk.